Welcome to the website Crossword-kingdom!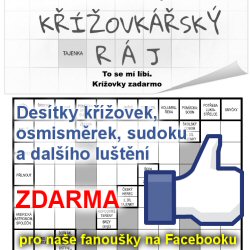 Crossword Paradise is a website for all crossworders. Here you will find Czech and Slovak Crossword Dictionary, where you can participate on its work.
New crossword puzzles will be added regularly that you can solve online you can save crossword status to your user account and continue solving at any time.
Registering to create your own account does not bind you to any contractual obligations. All files: crossword, word search, painted crossword, sudoku, are FREE to download for registered users. Subscribers to our crossword puzzle magazines have the option to download them in PDF format.
News